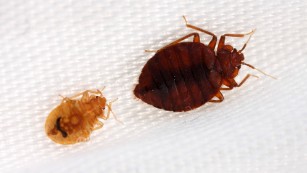 (CNN)A Walmart in Pennsylvania is facing a bedbug infestation after someone released the parasitic insects in a men's changing room, state police said.
A manager at the store in Edinboro found a closed pill bottle with live bugs crawling inside and reported it to authorities Thursday, police said in a release. The bottle was found inside a boy's jacket which was for sale.
On Friday, health safety company 
Ecolab
 confirmed that the insects were bedbugs. An Ecolab employee also reported seeing bedbugs crawling around the men's changing rooms the same day, according to police.
A Walmart employee later found a second closed pill bottle containing dead bedbugs in the men's department, police said. Edinboro is in the northwest corner of the state, near Erie.
Article URL : https://www.cnn.com/2020/01/05/us/walmart-bed-bugs-released-trnd/index.html