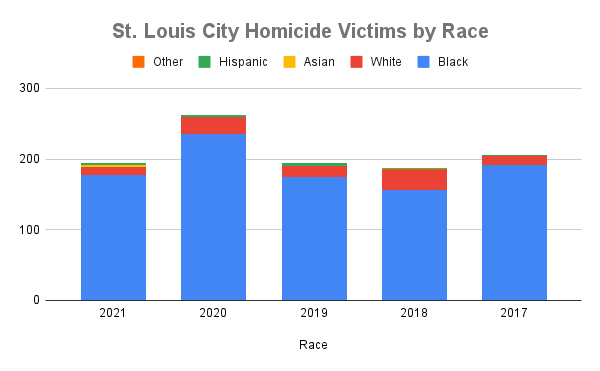 The good white liberals at Next Stl – Covering the Future of DEVELOPMENT, TRANSPORTATION, and PUBLIC POLICYin St. Louis – have put together an article showing the black population of the city represent perhaps the most violent racial population in not just America, but the entire world.
It's as if they've said, "white people, don't worry: you won't be a victim of shockingly high levels of violence committed by blacks, because black people primarily only target other black people. St. Louis is safe for you because of intense levels of segregation, meaning blacks primarily target only other blacks to produce one of the highest rates of homicide per 100,000 people in not just the USA, but the entire world. [Dissecting homicide statistics in St. Louis City and looking at 2022 projections, NextStl.com, February 1, 2022]
Welcome to the Murder Capital. As an epithet, it's right up there with Gateway to the West and Mound City. Cursory Google searches about St. Louis tend to highlight the danger inherent to this place. Historic white flight and modern Black flight are, in part, predicated on a notion and narrative that St. Louis is no more than an arena for killers and victims.