EXCLUSIVE – A political cartoon targeted at Democratic Gov. Phil Murphy's education agenda has piqued the interest of concerned parents across the state.
The cartoon, commissioned by the Sussex County Republican Committee, depicts Murphy tearing a child away from his parents, while demon-looking aides poke him with needles and present him with a dress. The cartoon is captioned, "No Family is Safe from Phil Murphy's Sex Ed Mandates!" and comes on the heels of the state's controversial guidance that schools do not have to notify parents if students decide to change their gender identity. The Murphy administration said doing so would protect students from being "outed" to their parents.
Sussex County Republican Chairman Joe Labarbera said Thomas Nast, often referred to as "the father of political cartoons," was the inspiration for the cartoon. Nast famously drew satirical cartoons of Tammany Hall's William "Boss" Tweed to expose political corruption in New York City.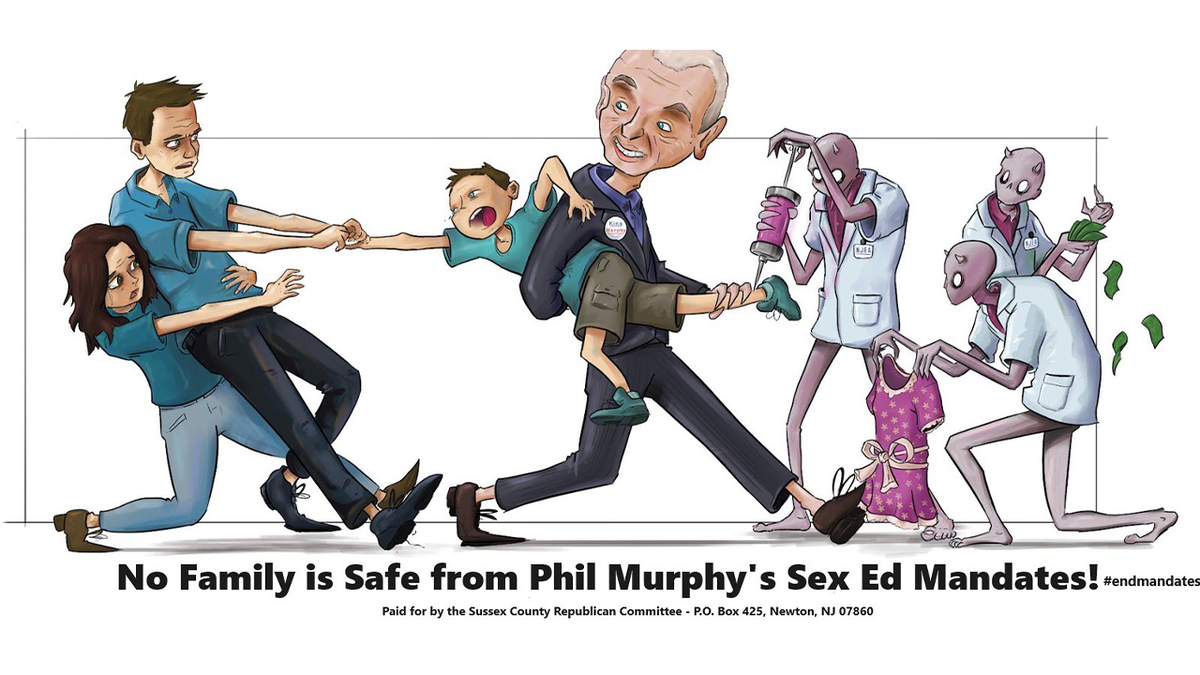 Labarbera said the response to the New Jersey artwork has been overwhelming.
"It's been ecstatic," he told FOX News Digital. "My phone has been blowing up nonstop. Emails have been blowing up nonstop. I would say I've had at least 140 to 150 between myself and staff of the Sussex Committee, at least 130 to 140 well-wishes… I've had multiple billboard vendors call me… saying, 'We would like to do this billboard,' and we have other party chairs saying, 'We're going to put up a billboard. We're going to do this too.'"
The image, he said, is set to be displayed on billboards "sporadically" throughout the state instead of just doing one billboard for a long period of time. The committee is also planning a social media push.
Continued…
Approved ~ MJM