https://www.thecollegefix.com/michigan-state-students-and-alumni-urge-university-not-to-erase-james-madison-from-public-affairs-school/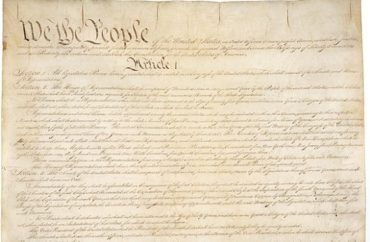 'This is another attempt at MSU pushing
As Michigan State University considers renaming its James Madison College, citing the founding father's ownership of slaves, students and alumni are pushing back.
The Keep James Madison Coalition created a petition urging the university and leaders of the public affairs-focused residential college to keep the name, arguing that Madison "should be remembered for the good and just things he said, fought for, and achieved."
Spearheaded by Sergei Kelley, president of MSU's Turning Point USA chapter, the petition has drawn more than 500 signatures since it was created July 20.
In an email, Kelley told The College Fix that he recognizes Madison had his own failings, but he also believes the father of the Constitution (original copy, above) was a major figure working toward liberty.
Renaming the college "would be another loss towards the radical left," he warned: "There can be no compromise or giving in on this name change."
Psychology student Emma Crabtree told The Fix that erasing Madison "would be erroneous as a liberal arts and political college in America." In a text message, she said she supports the petition "because I support American history and believe this is another attempt at MSU pushing their anti-American rhetoric."
https://www.thecollegefix.com/michigan-state-students-and-alumni-urg-university-not-to-erase-james-madison-public-affiars-school/